Working at 3stepIT
Looking to join a committed, positive team aiming to save the planet, one device at a time? You're in the right place.

Our Open Positions
OUR STORY
Behind 3stepIT
What started as two men's idea for IT lifecycle management has matured into a leading player in the circular economy, with over 400 employees and 4,000 customers globally. Nowadays 3stepIT is managing over 2 million assets and operating in 10 different countries. Our new strategic alliance with BNP Paribas extends our sustainable services across Europe.
A DYNAMIC COMPANY
Successful, growing and ambitious
Our employees say one of the best things about us is the positive and encouraging atmosphere that we have built and maintained, even while growing fast. We challenge our people and offer them an international working environment, an open, friendly community and continuous development opportunities. We only recruit those who will share the same passion for their work as we do. Those that will share our values of positivity, honesty and openness. And we love to innovate.
Fast growth
We are goal-oriented and our ambition has built a strong base for our success. We have high goals but we reach them together in a relaxed work culture where everyone is warmly welcomed. We trust our employees and provide tools for independent and flexible work.

Great team
We play well together and respect our colleagues' work, and that makes our workplace feel like home. We want to learn every day, we believe in low hierarchies and solving problems together. Relaxed yet cheerful work atmosphere leads us towards reaching our goals.

Continuous development
3stepIT is a developing and growing company. Our growth guarantees interesting opportunities to learn and develop as a professional. Our job is to make sure everyone reaches their goals by providing our employees with all the training and support they need.

MEET OUR PEOPLE
The day in the life of…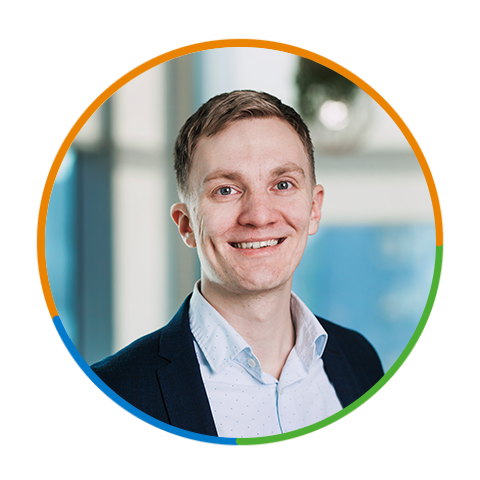 Toni, Sales Manager
What is needed in your position?
You need to be sales-oriented, you need to be proactive, have a get-things-done attitude and be able to work under pressure. The position itself is extremely rewarding, but also challenging at the same time. Goals are reached by working hard and never giving up. Background in B2B sales is definitely an advantage!

What's the best thing about your job?
It's very independent. I plan my own schedules and take care of my own performance. Although teamwork is the key to success, in the end Sales Managers are responsible for their own results. I also like the interactive and mobile work. I don't really sit at the office, but I'm always on the go and running from one customer meeting to another.

I love doing sales and it's hard to imagine getting similar satisfaction from any other job. I will never get tired of the feeling of closing a deal! I am also motivated by our performance-based salary. Hard work needs to be rewarded well!

What's the best thing about 3stepIT?
3stepIT is a sales-oriented organisation and we are given the tools to succeed. Sales processes are polished into perfection and we get regular training which helps us reach our targets. I have learned more about sales here than I have during my whole career at other companies. 3stepIT really cares about us employees and we have a great company culture with fun events like our annual Training Days. In 2019 the whole company got together in Budapest to celebrate a successful past year and plan the future.